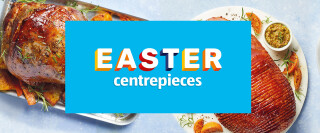 Traditional Easter lamb
You can't let Easter come and go without sitting down to a classic roast. And our 100% Irish tender lamb is too good to miss.
How to cook the perfect Easter lamb
Juicy, moist, tender and bursting with freshness. With our helpful 'how to' tips you'll be able to cook your beautiful Irish lamb joint to perfection.
The best way to ensure even cooking is to take your lamb out of the fridge for an hour before cooking and warm to room temperature.

For a juicy herb flavoured roast all you need to do is score the lamb all over and stuff with fresh garlic, aromatic sprigs of roughly chopped rosemary, butter and salt.

To ensure your leg of lamb is extra moist and cooked to perfection, pre-heat your oven before you cook and place lamb joint in the middle of the oven.
100% Irish. 100% amazing.
You can't mistake the amazing taste of an Irish roast. From chicken and beef to ham and duck, there's a slice of quality for everyone this Easter.
Easter timings and temperatures
Lamb, beef, chicken or pork – find out at a glance how to cook your Easter roast to perfection.
Preheat oven to 180°c/350f/gas 4. Roast for 25mins per 500g plus 25 mins (medium - 60°c) or 30mins per 500g plus 30 mins (well done - 70°c). Cover and rest for 30 mins. Half leg of lamb – leave to rest for 20 mins before carving.

Preheat oven to 200°c/400f/gas 6. Roast for 20mins per 500g (Medium rare - 55°c), 25mins per 500g (medium - 60°c), 30/35mins per 500g (well done - 70°c). Cover and rest for 30 mins.

Preheat oven to 200°c/400f/gas 6. Cook for 25mins per 500g. Pierce thigh with a skewer to see if the juices run clear. If they are pink – return to the oven and cook another 15 mins. A meat thermometer in the thickest part of the thigh should read 75°c.

Preheat oven to 220°c/450f/gas 8. Cook at this temperature for 30 mins. Then lower to 180°c/350f/gas 4. Cook for 35 mins per 500g – plus 35 mins. See if the juices are clear. If pink cook for 15 more mins - rest for 20 mins. Thermometer should read 70°c.
Simply amazing seafood

Seafood at the dinner table is always a welcome sight. With our incredible selection there's something for every occasion across Easter.
Deliciously easy sides
Easter with all the trimmings. Who doesn't want to delight in all the freshness, texture and flavour Easter has to offer? Make this year extra special and fuss free with our ultimate range of ready-made sides.
3 amazing Easter roast recipes
Try one of our minimum effort, maximum flavour recipes for the ultimate Easter feast.