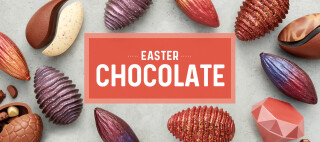 Our most amazing Easter eggs ever!
We want everyone to wake up to amazing chocolate eggs on Easter Sunday, so we've created a great value collection you have to see to believe. There's luxury chocolate in all shapes and sizes as well as your branded favourites and also Free From chocolate that tastes so good. Plus, there's a stunning, rare Ruby Diamond egg and an Exquisite Bird Cage egg you won't want to miss. Take a look and see what more we have in store for you.
Treat them to their favourite egg!
We all love waking up to chocolate on Easter Sunday. You'll find a brilliant selection of your favourite branded eggs in your local Aldi this Easter at amazing Aldi prices.
Sizes to suit all
We've got a huge selection of medium, large and extra large branded eggs with prices starting at just 99c.
Choose your chocolate
Our amazing sustainable range of chocolate includes exciting new tastes to discover and Free From selections to suit most diets. Find out more about our range below…
Something a little out of the ordinary
Try something different this Easter like our intricate gold lustred chocolate bird cage with a beautifully engraved hollow egg, or our giant ostrich egg made form white chocolate blended with caramel sugar powder for a delicious and unique flavour.
Opening Hours
Find out when stores up and down Ireland will be open over the Easter weekend, so you can plan ahead and not have to worry about last minutes dashes. Discover the opening hours of your local Aldi today.
Amazing Easter recipes
Fill your Easter weekend with delicious food ideas your family will love. Our amazing recipes cover every meal, course and occasion from Friday to Monday.