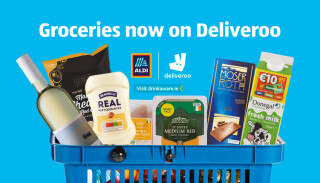 Get your order delivered with Deliveroo.
Need a few essentials in a hurry? Can't get to the shops? You can now order amazing value groceries direct from your local store through our new food delivery partner Deliveroo. This speedy new service allows you to do your shop safely and conveniently without leaving the house.
Follow the steps below to complete your order today!
Participating stores
Our home delivery service is currently being rolled out across selected areas of Ireland. If you live near one of our participating stores, you'll find that it only takes a few clicks to get the essentials you need.
We are regularly adding more stores, so if we are not currently in your area, just check back again soon.
To see if your local Aldi is on Deliveroo, click HERE.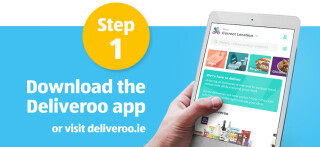 You can shop right away by simply downloading the Deliveroo app, popping in your address and clicking on the Grocery category. Then scroll down the list to find your local participating Aldi store.
With 150 items to choose from, you'll find everything you need and more – Irish meats and fish, fresh fruit and veg, cereal, milk, eggs, bread and even some delicious ready meals. Just pop what you need in your basket ready to be delivered in as little as 30 minutes.
It's quick and easy to order through the Deliveroo app. Then our friendly staff will pick and pack it all just for you, delivered to your door in as little as 30 minutes.
All home deliveries will be contactless. This means the delivery driver will drop your parcel off at your door, knock or ring your doorbell and then leave straight away. This is to keep interactions to a minimum, so you and your delivery driver stay safe. Ordering alcohol? You must be over 18 and have your ID ready to show the delivery driver.
The prices of our products on the Deliveroo app may be different from what you pay in store. However, they still offer amazing Aldi value and quality.
Do you have a question?
If anything needs clearing up, we have a fantastic question and answer section. You should be able to find the answers you need there.