Dry gin cocktail mixed with lemon, lime and cranberry syrup.
Cranberry Sour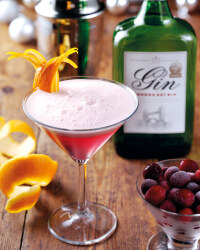 Recipe Information
Ingredients
50ml Dry Gin
25ml lemon and lime juice
25ml cranberry syrup (made from dried cranberries, 200ml water and sugar to taste)
Method
Methodology
1. To make the cranberry syrup simply heat the cranberries over a medium heat until the syrup has taken on the colour and flavour of the cranberries. Add sugar to balance the tartness of the fruit
2. Add all ingredients to a cocktail shaker
3. Add cubed ice and shake hard for 10 seconds
4. Take the ice out of the shaker and shake again to aerate the cocktail
5. Pour into a chilled cocktail glass and serve
Decoration / to serve
Orange twist to garnish.
Tasting notes
Dried cranberries are a great store cupboard essential as they can be used as and when needed. This a great way to show off your mixology skills by balancing the award winning botanical notes in the Oliver Cromwell Dry Gin with the tartness of the cranberries.