Cranbellini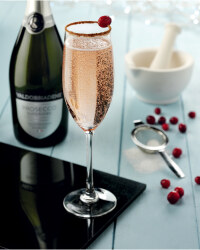 Recipe Information
Ingredients
75ml Prosecco
25ml Cranberry juice
1 punnet Fresh cranberries
1 tsp Mixed spice
Method
Dip the rim of a chilled Champagne flute into the cranberry juice, and then into the icing sugar.
Dip again in the cranberry juice, then into the mixed spice and leave to stand.
Make the sugar syrup – mix the water and sugar and bring to the boil in a saucepan.
Stir until the sugar has dissolved and allow to cool.
Mix the cranberry juice with 1 teaspoon of sugar syrup and fill the bottom ¼ of the glass then top up with Prosecco.
Garnish with a cranberry cut half way through and pushed onto the rim of the glass.