Deliciously baked cod loin topped with pesto, breadcrumbs and Parmigiano cheese.
Cod – with a pesto and ciabatta crust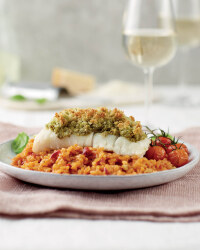 Recipe Information
Ingredients
2 x 280g packs Specially Selected Cod Loins
40g Pesto
1 Cucina Ciabatta Roll
25g Specially Selected Parmigiano Cheese, grated
40g Salted Butter, at room temperature
2 x 200g sachets Tomato and Sweet Pepper Risotto
Sea Salt and Black Pepper
Method
Pre-heat the oven to 200ºC/400ºF/Gas Mark 6.
Chop the ciabatta bread up and make into breadcrumbs in a food processor.
Place the 4 cod loins on a greased baking sheet. Divide the pesto between them and spread over the top of each piece of cod.
In a bowl, mix the breadcrumbs and the Parmigiano cheese together. Season with some salt and pepper, then rub in the butter. Divide this mixture into 4 and gently pat the crumble over the top of the pesto.
Bake in the oven for 15 minutes.
Meanwhile, make the risotto up as per the instructions on the pack.
Serve each cod loin on a bed of risotto.