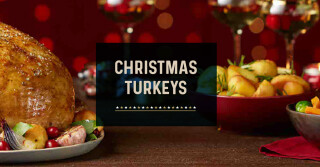 The Perfect Irish Christmas Turkey
Give your guests something to cheer about with this year's amazing collection of Christmas turkeys. No matter the size of your show, we have everything from whole turkeys to stuffed crowns to please the crowd and we even have tips on which size to buy!
There's lots of different options in our amazing turkey range. Here's a quick guide to help you pick the perfect one:
Fresh Irish Turkeys are from €8.99 and will be in store from 20th December.
Free Range: These turkeys have continuous daytime access to outdoor runs, getting plenty of fresh air and exercise.
Outdoor Reared: Our outdoor reared turkeys roam and forage in their natural habitat, eating and exercising freely.
Organic: Slow reared for a succulent flavour and texture, these birds are outside during the day and fed an organically grown diet.
Bronze: Bronze turkeys earn their name from their unique colour. Rather than black, these birds have a metallic brown sheen.
Irish Organic Free Range Bronze Whole Turkey
Our Hockenhull Hollyberry certified organic turkeys are raised outdoors in the heart of Tipperary and are allowed to grow at their own pace, resulting in meat that is tender with a fine texture.
Stuffed Whole Turkey with Bacon Lattice
With traditional Irish butter, bread and smoked bacon stuffing and packed with premium Berkshire breed dry-cured bacon.
Cook-In-The-Bag Irish Bronze Turkey Crown
Stuffed with a festive pork and cranberry stuffing and dressed with maple cured streaky bacon lattice.
Cook-In-The-Bag Boneless Turkey Crown
With a spiced fruit stuffing and topped with maple cured streaky bacon.