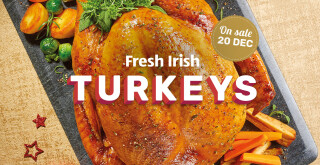 Ta-dah! Who's for turkey?
It's the meal you've waited all year for, so make it something truly special. Whatever your budget, our range of juicy Irish whole turkeys and delicious crowns are the perfect choice for an unforgettable Christmas dinner.
Top off your table with value
We've got an incredible range of birds to choose from for your Christmas feast, no matter what your budget. Guaranteed great quality and amazing taste to make sure your Christmas turkey dinner is as perfect as possible.
Large Whole Turkey
A large free-range Irish turkey, the perfect centrepiece to Christmas dinner.

Irish Fresh Boned & Rolled Turkey
Choose from Plain or Sage & Onion Stuffing.
Guaranteed quality and taste
Our quality selection includes a great range of juicy festive birds, including our Butcher's Selection Free Range Irish Turkey Crown and Cook in the Bag Boneless Stuffed & Dressed Irish Turkey Crown.
Butcher's Selection Irish Free Range Turkey Crown
A free range Irish turkey crown in a foil tray, so it's easy to cook. Serves 4-6.

Boneless Stuffed & Dressed Irish Crown
Carefully reared in Ireland, our Specially Selected turkey crowns are selected from the finest hand-carved joints.
Treat them to something special
What better way to celebrate Christmas together than with a traditional Irish turkey from our amazing range? Spoil them with a delicious Outdoor Reared Slow Grown Bronze Whole Turkey. All 100% Irish and free range.
Irish Organic Bronze Whole Turkey
Raised outdoors with care in Tipperary, our certified organic turkeys are allowed to grow and mature slowly.

Irish Outdoor Reared Slow Grown Bronze Whole Turkey
Our Hockenhull Hollyberry Bronze turkeys have the freedom to roam in fields in Co. Monaghan. Plump and tender turkeys with an incredible flavour.
The Perfect Irish Christmas Turkey
It wouldn't be Christmas without the turkey. Thankfully, we have a superb choice of Ireland's finest to share with you, including our Exquisite Irish Organic Bronze Whole Turkey. Take a look at the full range and select the perfect centrepiece for your family dinner.
There's lots of different options in our amazing Turkey range. Here's a quick guide to help pick the perfect one:
Fresh Irish Turkeys are from €8.99 and will be instore from 20th December.
Free Range: These turkeys have continuous daytime access to outdoor runs, getting plenty of fresh air and exercise.
Outdoor Reared: Our outdoor reared turkeys roam and forage in their natural habitat, eating and exercising freely.
Organic: Slow reared for a succulent flavour and texture, these birds are outside during the day and fed an organically grown diet.
Bronze: Bronze turkeys earn their name from their unique colour. Rather than black, these birds have a metallic brown sheen.