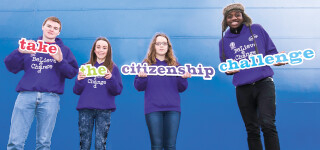 Empowering the next generation with Foróige
Since 2015 Aldi Ireland have partnered with the leading youth organisation Foróige in a three-year partnership, which will see a total of €840,000 provided in support.
Foróige works with over 54,000 young people (aged 10-18 years old) and 5500 volunteers each year through a network of more than 611 youth clubs and cafés, 147 targeted projects, the Big Brother Big Sister Youth Mentoring Programme and national programmes such as Citizenship, Entrepreneurship and Leadership.
Over 200 youth groups have taken on the Aldi #citizenshipchallenge to empower young people to make remarkable things happen in communities, across Ireland. Together Aldi and Foróige are empowering young people to turn their big ideas into big action so that they can have a big impact on their community.
Here are a few of the amazing projects implemented over the years.
Overall award winners
Killimordaly/Kiltullagh, Galway
Awareness project to raise funds for defibrillators in their community
Following a serious road collision injuring previous club members, Oldcastle Foróige Youth Club decided to campaign for everyone in their community to take responsibility for their behaviour on the roads. Their message: Change one thing and help to reduce the number of road fatalities and injuries.
Society of St Vincent de Paul (SVP): All in a good cause
Aldi Ireland is pleased to continue to support the Society of St Vincent de Paul (SVP). SVP is a non-profit organisation founded in Ireland in 1844 that focuses on providing direct assistance to individuals and families experiencing poverty.
We have worked closely with SVP since 2011, facilitating store collections, clothing banks in store car parks, annual textile, product and monetary donations and we continue to support SVP through annual donations, as well as our support of the annual 'Give a Gift' campaign.
Irish Cancer Society: Proud to sponsor the Colour Dash
The Irish Cancer Society is the national cancer charity in Ireland, providing care and support to cancer patients and their families. This year 40,000 people will be diagnosed with cancer in Ireland. We are delighted to have expanded our partnership with the charity over that time.
Colour Dash is a five kilometer run that sees participants of all ages running, walking or jogging the course. At each kilometer a different colour – representing a different cancer – of powder paint is thrown at participants, creating a kaleidoscope of colour. 'Dashers' start the route wearing a white t-shirt that is quickly transformed into a colourful work of art. 2015 marks the third year of Colour Dash and to date over 6000 people have taken part and over four tonnes of paint has been thrown.
The Irish Cancer Society was specifically chosen by Aldi staff in a company-wide poll because so many staff knew people affected by cancer. It funds innovative research projects to find better ways of diagnosing and treating cancer and also delivers a range of free services, including a Night Nursing service and Freephone Cancer Nurseline, to improve the lives of those affected by cancer. Services they provide include:
• Cancer Nurseline Freephone – allowing people to call and speak to one of ICS's cancer nurses for confidential advice, support and information
• Daffodil Centres, located in 13 hospitals nationwide. The centres are staffed by cancer nurses and trained volunteers who provide confidential advice and support to anyone affected by cancer
• Night Nursing – provision of end-of-life care for cancer patients in their own home