Welcome to the home of Irish food.
If you're looking for the best of Irish, you only need to visit your local Aldi. It's full of fresh food that inspires fantastic family meals. And it's all made more affordable by our everyday amazing value and the weekly deals our customers love, like the famous Super 6 Fruit and Veg and Fresh Meat offers. Explore it all today.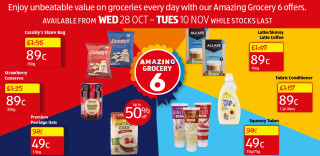 Amazing local food.
Thanks to Ireland's best suppliers, our customers can enjoy quality home-grown food with every meal. All you have to do is look out for the Bord Bia Quality Assurance logo and you'll know that your food has been produced to the highest standards of quality and traceability.
Terrifyingly tasty Halloween recipes.
Sweets, treats, hearty meals and drinks. Need a few ideas that'll have them screaming for more? Try our Pumpkin Muffins and Scream-a-Coladas.