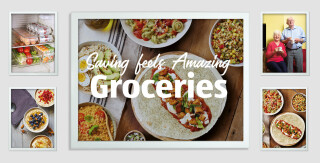 Make this your healthiest New Year yet
This January, you'll be amazed by the range of choice, quality and value you'll find in your local Aldi. You can be sure we have everything you need to make lots of really healthy choices, including our ever-growing organic range and a whole range of nutritious free-from foods.

Amazing tastes. Amazing quality. Amazing prices.
From washing powder, nappies and wipes, to wine, cheese and fresh meats, you'll find excellent quality and value this January at Aldi.
Eat Well Recipes
Make this your healthiest New Year yet by making key changes to the way you live, starting with your recipe choices. Whether you want to eat more fish, choose meals that are low carb or are thinking of going vegan, we've got lots of tasty options for you in our recipe collection.