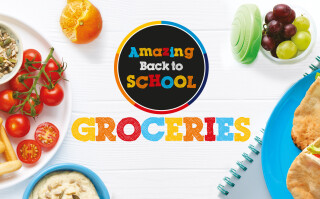 Top marks for value.
Back-to-school savings feel amazing. Let's open the school gates with a trolley full of great value products. Find easy ideas for family meals every night of the week, discover great value offers on fresh fruit and veg, and enjoy a whole store cupboard full of essential ingredients for less. Not to mention all your household basics.
Back to School Made Easy.
Quick, easy and affordable. That's the key to adjusting back to the busy term-time routine. And we've got all the household products and essential ingredients you need at Aldi for less, from pasta, eggs, cereal, and frozen meals to washing powder and nappies.
Amazing Back to School Recipes.
Healthy and Nutritious meal ideas for packed lunches, snacks and after school dinner recipes.
Everything you need for Back to School