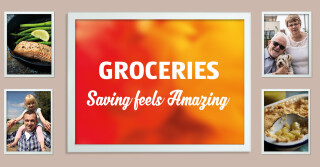 Seasonal Savings
You'll be amazed at what you will find in store this autumn. Just pop in store and stock up on our delicious Irish meats and fresh fruit and veg. Not forgetting our amazing baby products and gorgeous flowers too.

At Aldi you're picking winners every day
From award-winning washing powder, nappies and wipes, to wine, cheese and fresh meats. Autumn at Aldi is about celebrating the season with the most amazing flavours and the high quality food. It's time to bring home autumn with Aldi.
Amazing Recipes. Amazing Tastes.
We've got a great line up of easy recipes just for you this autumn.