Baharat Spiced Chicken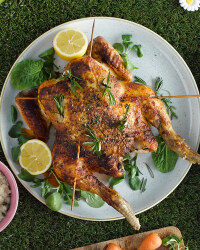 Recipe Information
Ingredients
1 Large Chicken
60g Honey
60g Salted Butter, at room temperature
1 heaped tsp Ground Ginger
1 heaped tsp Paprika
1 flat tsp Ground Cinnamon
1 flat tsp Chilli Powder
1 flat tsp Ground Black Pepper
8g Fresh Coriander, chopped
1 Cauliflower
150ml Single Cream
1 heaped tsp Dried Parsley
2 Vegetable Stock Cubes, dissolved in 1 litre boiling water
Black Pepper
Method
Pre-heat the oven to 200oC/400oF/Gas Mark 6.
Put the chicken breast-side down on a chopping board and, with a sharp knife, cut through the back bone. Turn it over and flatten down.
Put into a large roasting tray, making some slits in the legs and breast with a sharp knife. In a bowl, mix together the butter, honey, ginger, paprika, black pepper, cinnamon, chopped coriander and chilli powder.
Smear the mixture over the chicken, rubbing into the cuts. Roast in the oven for 45 minutes, basting with the juices every 15 minutes.
Cut the cauliflower into 8 slices. Cook the cauliflower in the vegetable stock for about 15 minutes until tender.
Drain well, then pour over the cream and mash until you have a coarse mixture. Season with the parsley and some black pepper. Serve alongside the chicken.