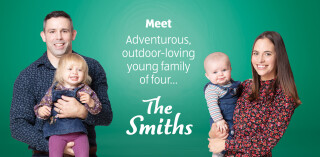 Meet AnnMarie and Peter.
This young family from Galway have their hands full with baby Sean and toddler Holly. No wonder they love to blow away the cobwebs on a hike. Peter, who's in the Army, and teacher AnnMarie are hoping to spend their savings sprucing up the house.
Our story
With two little mouths to feed, AnnMarie and Peter are always looking for freshness, range and great value. And they've not been disappointed since they swapped to Aldi. Here are their highlights.
Shopping before switching to Aldi took place between 21/09/20 to 18/10/20 and in Aldi took place between 19/10/20 to 15/11/20. Participants received a gratuity.
More amazing inspiration for you
Time to meet a few more of our Swap and Save families, discover more from our range and be inspired to cook some of our delicious and nutritious family recipes. Why swap to Aldi? Let's find out.