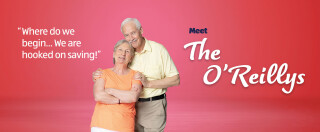 Meet the O'Reillys
Therese and Peter O'Reilly love to spend their time golfing and travelling in-between looking after their grandchild, Sophie-Belle, a few times a week. They love Ireland and are looking to save so that they can take more short breaks around the country.
Our Story...
With such a great love for Ireland, Therese and Peter were amazed at the fact that most of the products in store were sourced and created in places which they knew so well! They also loved the ease of shopping at Aldi and now say they are hooked. Here's a few of their highlights…
Shopping before switching to Aldi took place between 29/04/19 to 26/05/19 and in Aldi took place between 27/05/19 to 23/06/19.
Meet the other families…
Let us introduce you to our families. Read their stories and hear about all their favourite products, recipes and tasty surprises.
Participants received a gratuity. For shopping dates please click here.