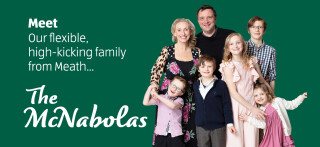 Meet the McNabolas!
Katrina and John have 5 children and a dog! They're spending their days doing pilates, karate and getting out for long walks while they dream of jetting off somewhere soon.
Our Story
The McNabolas have seven mouths to feed in one house. That's a big shopping bill every week, so they're delighted to find a new store that has it all for less. Here's a few of their highlights…
Discover more reasons to swap
Meet our other families, explore our full range in store and be inspired to cook delicious and nutritious family recipes. It's reasons like this why so many are making the swap. Find your reason today.