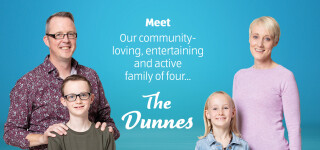 Meet the Dunnes
This super active family of four - Gary, Ciara, Archie, Hannah and Daisy the dog - from Galway, enjoy triathlon, football, walking, reading, catching up with their favourite TV series and making the most of family time.
Our story
Sales rep Gary and administrator Ciara have found lots of new favourite things at Aldi. And the best bit? The outstanding value, of course. Here are their highlights!
Shopping before switching to Aldi took place between 21/09/20 to 18/10/20 and in Aldi took place between 19/10/20 to 15/11/20. Participants received a gratuity.
More amazing inspiration for you
Time to meet a few more of our Swap and Save families, discover more from our range and be inspired to cook some of our delicious and nutritious family recipes. Why swap to Aldi? Let's find out.