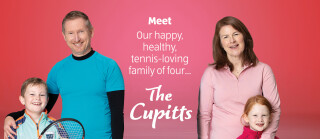 Meet the Cupitts
Sports loving family of four Audrey, Matthew, Liam and Molly from Galway are always trying new activities. They also love to travel and have hopes of being able to put all their Aldi savings towards a trip to Australia - the place they met 20 years ago.
Our story
With four hungry mouths to feed and lots of different diets and tastes to satisfy, the Cupitts have enjoyed all the variety and range that Aldi has to offer. Here are their highlights.
Shopping before switching to Aldi took place between 21/09/20 to 18/10/20 and in Aldi took place between 19/10/20 to 15/11/20. Participants received a gratuity.
More amazing inspiration for you
Time to meet a few more of our Swap and Save families, discover more from our range and be inspired to cook some of our delicious and nutritious family recipes. Why swap to Aldi? Let's find out.