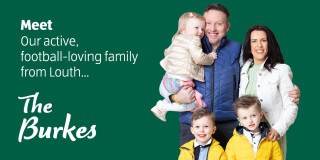 Meet the Burkes!
Linda and Paul are big fans of keeping fit and playing sports. They like to get their family of 5 moving as much as possible and they love cooking up delicious meals in the kitchen too.
Our Story
The Burkes were disheartened paying so much for their weekly shop. They wanted less stress, better prices and more quality Irish products in their trolley each week. So, they made the swap to their local Aldi and haven't looked back. Here's a few of their highlights…
Discover more reasons to swap
Meet our other families, explore our full range in store and be inspired to cook delicious and nutritious family recipes. It's reasons like this why so many are making the swap. Find your reason today.