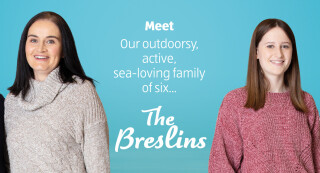 Meet the Breslin's
Sinead and John, their three kids Kiera, Aoife and Sarah, and Sinead's brother Sean. A spirited family like the Breslin's love to walk, cycle and get involved in a family games night.
Our story
Solicitor Sinead and local radio presenter John are really impressed with the choice of Irish products in store. Not to mention the vegetarian range and the wonderful wine collection. Here are their highlights.
Shopping before switching to Aldi took place between 21/09/20 to 18/10/20 and in Aldi took place between 19/10/20 to 15/11/20. Participants received a gratuity.
More amazing inspiration for you
Time to meet a few more of our Swap and Save families, discover more from our range and be inspired to cook some of our delicious and nutritious family recipes. Why swap to Aldi? Let's find out.