A wonderful way to serve breakfast with eggs, bacon, spinach and cheese on a pastry bed.
Breakfast Pastry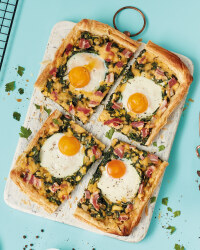 Recipe Information
Ingredients
1 pack Ready Rolled Puff Pastry
250g bag of Baby Spinach
1tsp Butter
½ Large Onion, chopped
235g Grated Cheddar
6 Eggs
4 rashers of Smoked Streaky Bacon, chopped
Fresh Chives and Black Pepper, to serve
Method
Preheat the oven to 200C/180C (fan)/gas mark 6.
Place the ready rolled pastry on a baking sheet and cook in the oven for 10 minutes.
Heat the butter in a pan and sauté the onions for 5 minutes.
Add the spinach and continue to cook for another 3-5 minutes, or until the spinach has wilted.
Spread the onion and spinach mixture over the part-baked puff pastry, leaving 6 indentations for the eggs.
Break an egg into each cavity before sprinkling the grated cheddar and chopped bacon over the rest of the pastry.
Bake in the oven for 8-10 minutes.
Remove the pastry from the oven and season with chopped chives and black pepper. Serve immediately.