These colourful indulgent macarons add a little colour to any tea party.
Passionfruit Macarons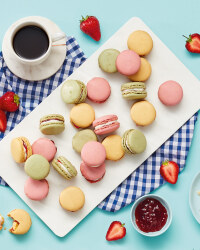 Recipe Information
Ingredients
For the macarons:
200g ground almonds
225g icing sugar
Pinch of salt
150g egg whites
70g caster sugar
1tsp vanilla extract
Pink, yellow, and green food colourings
For the filling:
125g unsalted butter
250g icing sugar
80g cream cheese
The juice of 1 very ripe passionfruit
Method
Preheat the oven to 160C/140C (fan)/gas mark 3. Line a cookie sheet with baking paper in preparation.
Sift together the ground almonds and icing sugar. Repeat 3 times.
In the bowl of a stand mixer fitted with a balloon attachment, whisk the egg whites and pinch of salt until frothy.
Leaving the mixer running, add the caster sugar a spoon at a time. Mix for a further 5 minutes, or until stiff peaks form.
Fold the egg mixture into the dry ingredients a spatula at a time, being careful not to beat out too much air.
Fold in the vanilla extract.
Separate the macaron mixture into three bowls.
Stir a couple of drops of food colouring into each batch before transferring to piping bags.
Pipe the mixture into 36 rounds approximately 3.5cm wide.
Leave to settle for 45 minutes.
Tap the baking tray on the worktop before baking the macarons in the oven for 15-20 minutes, or until the tops are crisp and glossy.
Remove the tray from the oven and transfer the macarons to a wire rack before they stick to the baking paper.
For the filling, whisk together the butter, icing sugar, cream cheese, and passionfruit juice.
Scoop the filling into a piping back and use to sandwich together the macaron halves.
Keep the macarons in an airtight container.
For a chewier macaron, refrigerate overnight before serving.