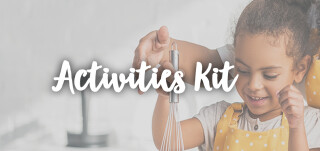 How to keep your kids entertained
If you're looking for inspiration on how to entertain the kids at home, you're in the right place. From cooking and crafts to games, quizzes and quality family time, we've got bags of easy and affordable ideas to keep everyone happy and active. And by the time you've done all these, we'll have lots more for you to try, so keep popping back to see what's new.
Helpful daily schedule
Trying to juggle your day while the kids are off school? Hopefully this helpful daily schedule will give you some much-needed inspiration. Download it and stick it on the fridge. Or simply use it as a starting point for finding your new normal.
Get active
The best way to help them let off a little steam is by finding a whole heap of free and easy activities to do in your own home. Here's a few ideas.
Transform your back garden into the ultimate play zone – make an obstacle course and bring out all those fab outdoor toys.

Even the smallest bucket of water will keep the kids happy, splashing, stirring and pouring for hours! And when the sun comes out… water fight!

From handstands and hula hoops to crawling under tables and chairs, build an indoor obstacle course and enjoy some free fun.

If they've got the moves, then let them go crazy to their favourite tunes or just pick one and make up a dance.
Get cooking
Kids love homemade treats, especially when they've made them all themselves. So, we've come up with bags of easy to make and bake recipes to do with the kids at home – and all using only a handful of ingredients. Join our kid chefs in the Taste Kitchen today for some Rocky Road and Galaxy Ice Cream and discover more store cupboard recipe inspiration right here.
Get crafty
'Why haven't we done this before?' That's what you'll all be thinking once you discover the world of crafting. Why not make time fly while you're at home by turning your recycling into crafty projects like this Paper Roll Shark. And you'll find lots more easy and affordable ideas like this in our Get Crafty guide.
Design

Take a kitchen roll tube and mark out the mouth and tail of the shark.
Cut

Get an adult to cut out the marked sections or use safety scissors supervised by an adult and cut 2 fins and a tail using cut-offs. Cut out 2 sets of teeth from white card.
Decorate

Paint everything except the teeth and allow to dry. Glue pieces in place and add googly eyes!
Get thinking
Keep their minds sharp by setting aside a few hours a day for writing journals, activity books, catching up with arithmetic or spelling. It's important to keep young minds ticking over. So, let them choose what they want to do. Now where's that stash of activity books?
Oh, and don't forget to download our free Activity Sheet or our fun Get Busy with the Quizzy.
Brain-boosting activities
Let the kids choose a fun activity from our downloadable pack every day.
Game on
Do a puzzle or game every day. It's a great way to get their brains all fired up and keep them entertained for hours, whether they're 6 or 12. It's also a pretty good way to spend some quality family time.
Sometimes, the simple things are the best – try marbles, making paper planes, hopscotch and skipping.

Have a drawer of go-to games and let them choose one every day to play as a family – cards, Monopoly, chess, backgammon, Twister, snakes and ladders. Just don't let them beat you!

Happy, active kids are the aim – no screen time necessary. From balloon bowling to obstacle courses, download our free Indoor Games sheet for more great ideas.
#CGChallenge2020. Stay in the games
Aldi Community Games has had to suspend all activities in light of COVID-19 but that doesn't mean the Games stop! The focus of Community Games has always been about keeping kids active both physically and mentally so we have set up 5 daily challenges to keep you busy. Not only that, each day you can submit a video or image of the daily challenge and be in with a chance of winning a €100 Aldi voucher. Just tag your social post with #cgchallenge2020 or visit the pages below to submit your entries.
Family time
School's out. So why not make the most of it by curling up on the sofa with your little ones, read or watch their favourite show? Just focus on family time.
There are so many amazing classic movies you can watch together. Watch this space for a list of our must-watch movies.

Build that den in the garden. Clear out the garage. Paint the decking. You can get all those projects done if you're at home. And the best bit? You can do it together!

It can't all be fun and games. Get them to help with daily chores and earn rewards – washing, brushing the floor, looking after pets and plants, washing the car, etc.

Sit-down family meals every night might be the new norm, so enjoy it. Try a few conversation starters, like 'What's your favourite song?' or 'If you had a superpower, what would it be and why?'