Juicy Aberdeen Angus steak in a deliciously soft ciabatta roll.
Aberdeen Angus Steak Ciabatta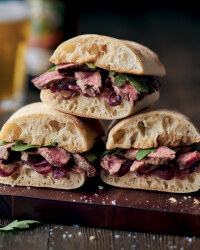 Recipe Information
Ingredients
2 x 227g British 28 Day Dry Aged Sirloin Steaks
300g Ciabatta Loaf
1 x large Red Onion, sliced
20ml Olive Oil
20g Salted Butter
10g Soft Brown Sugar
10ml Balsamic Vinegar
40g Fresh Rocket
Sea Salt
Method
Pre-heat the oven to 200°C/400°F/Gas Mark 6
Bake the ciabatta in the oven for 10 minutes ̶ as per the directions on the pack.
Melt the butter with the olive oil in a large frying pan.
Add the onions and cook gently for 10 minutes, stirring occasionally.
Add the brown sugar and the vinegar, season with plenty of salt and cook for another 3-4 minutes. Put to one side.
Grill, fry, griddle or barbecue the steaks to your liking.
Once cooked, thinly slice the steaks and split the ciabatta in half, lengthways.
Fill with the caramelised onions, steak and rocket.
Cut into 4 slices and serve.